by Tony Kiene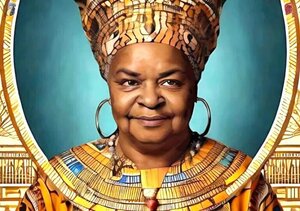 Later this month, the 33rd Annual Master Black Storyteller's Festival is scheduled to take place at the Capri Theater in North Minneapolis. However, this timeless Twin Cities tradition will never be the same as one of its co-founders, the legendary Nothando Zulu passed away on Monday, September 11.
A native of historic Southampton County, Virginia—the birthplace of both Dred Scott and Nat Turner—Nothando was the sixth and youngest child born into a sharecropper family. Inspired by the likes of Zora Neale Hurston among many others, she would go on to share her time, imagination, and storytelling talents to "entertain and educate" audiences across the country and around the world for more than 50 years.
It was at the University of Minnesota, where in 1976, Zulu collaborated with fellow students Lou Bellany, Jerri Alexander, Horace Bond, Jerry Blue, and her future husband Vusumzi (Vusi) Zulu, to create the Black Theatre Alliance.
Nothando explained to the Minnesota Spokesman-Recorder in 2022, that the idea behind the alliance was to "take theatre directly to the community without the use of stage, set, or props." Over time, this model evolved into more of a storytelling ensemble than something resembling a theatre company.
So, in 1990, after participating in the National Association of Black Storytellers Festival (NABS) for the first time, Nothando and Vusi returned to the Twin Cities and established the local affiliate of the NABS, the Black Storytellers Alliance, along with their own annual showcase—the Master Black Storyteller's Festival, which was launched in 1991.