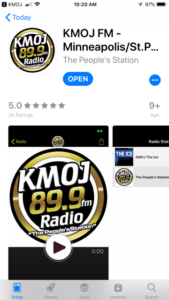 Now KMOJ fans can listen to KMOJ 89.9 with the just-released KMOJ FM App. You can download from this page!
Accessible through the kmojfm.com and theicemn.org websites; or through downloads on Android and Smart Devices from Google Play and IOS platforms, theKMOJ FM App is designed for the way people consume media today.
Listeners can experience the ultimate convenience of having one app with two radio stations; blogs; KMOJ social media platforms, including Facebook; Twitter; Instagram, and more all in one app.
The KMOJ FM App leverages KMOJ's Adult Urban Contemporary and Hip-Hop music formats and it's public affairs programming in an easy-to-use platform.
So whether listeners are on the go or simply want the flexibility of listening anytime or anywhere, the KMOJ FM App is the perfect tool.
Fans of KMOJ The Ice HD2 have been asking for the App as listening on the go is the principal way this 18-35 demographic consumes information.
KMOJ officials say the KMOJ FM App takes both radio stations to the next level consistent with its goal to super-serve its communities and train the next generation of broadcasters.
THe KMOJ FM App is available now.